10 Social Commerce Tools for Beauty Retail
The beauty industry has been one of the most severely affected sectors of the 2020 pandemic. As consumers were unable to leave their homes to shop, revenue for beauty retailers dropped by as much as 30%. Yikes.
Fortunately, the beauty industry is both resilient and innovative. While certain brands, like Sephora, lost revenue due to interrupted sales in large stores, others gained by selling through other ecommerce avenues such as social media.
In fact, with more consumers shopping online than ever, many smaller brands that don't sell through huge platforms underwent a massive boom. Today, beauty retailers that work to establish a strong online presence have the potential to go farthest. There's a lot of competition in beauty retail, but it's also an industry that rewards innovative marketing.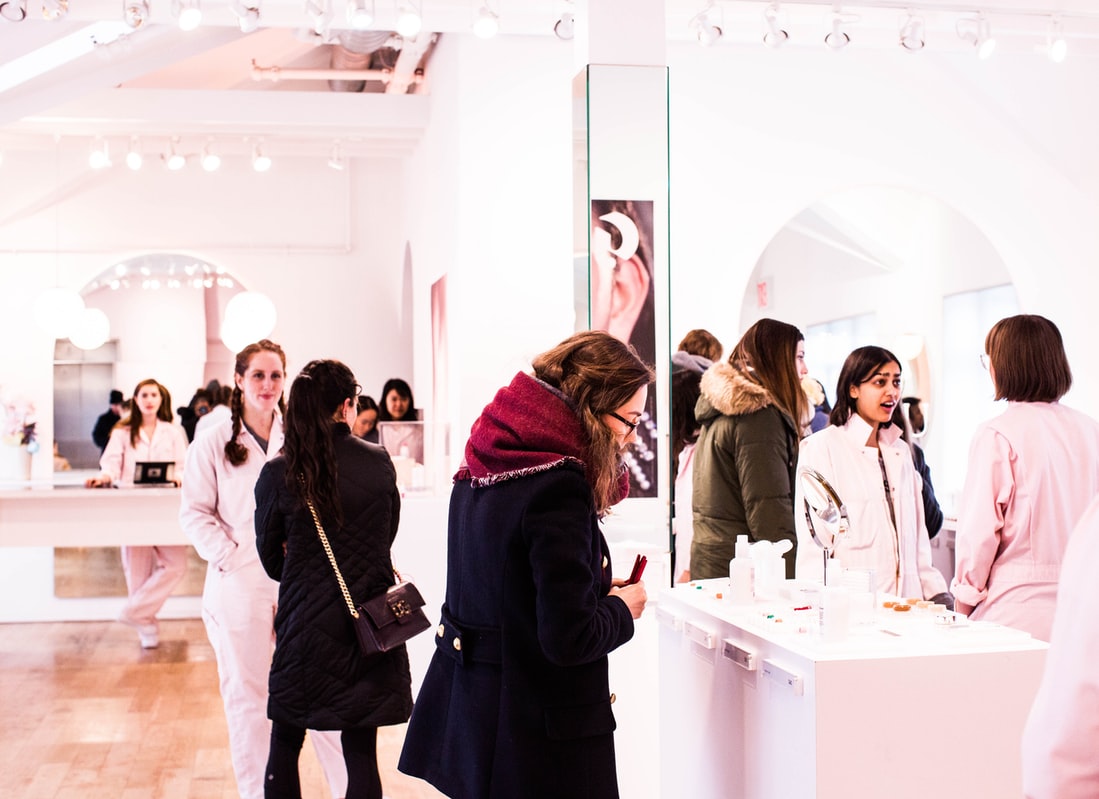 What is Social Commerce?
As recent trends show, marketing and sales through social media, also known as social commerce, could become a primary marketing strategy for beauty marketers across the industry in the coming years. More succinctly, social commerce is defined as "the buying and selling of goods or services directly within a social media platform."
While there are many benefits of using a social commerce strategy as part of your marketing efforts, one of its top benefits is that it allows customers to complete their entire shopping experience without leaving their preferred social media platform. This model allows customers to complete the discovery process right from an app's search bar.
If you're curious about how to leverage social commerce in your organic marketing strategy in 2022, keep reading.
The Benefits of Social Commerce for Beauty Retailers
The beauty industry is particularly good at tapping into the emotional side of sales. The brands that perform best are the ones that manage to create a connection with the consumers.
This fact alone dispels the myth that competitive pricing is a key factor in customer decision-making. Increasingly, social commerce is now proving to be one of the best ways to establish that connection — and it has many other perks, such as:
Providing an excellent source of business-oriented metrics and analytics.

Giving marketers the ability to express their brand's unique identity.

New opportunities for creating buzz and virality around certain products.

The opportunity to leverage social proof strategies to promote brand offerings.

An uninterrupted shopping experience for customers as part of their platform use.
10 Social Commerce Tools for Beauty Retail
In recent years, social media platforms like Facebook, Instagram, and TikTok have implemented new and innovative ways for retailers to sell directly through social media. This has led to impressive results, with social commerce generating over $474 billion in revenue in 2020.
If you're not sure how this applies to your retail business specifically or where to even begin your research of tools available, no sweat! Below we'll list some of the best tools available to start implementing social commerce into your retail business's marketing and sales strategy.
TikTok Hashtags And Filters


In 2021, TikTok reached its first billion active users. Today, it's one of the top platforms for online marketers. TikTok not only attracts a young audience interested in beauty products, but it also offers unique opportunities for virality.
Create a hashtag that goes viral, and you could find yourself with thousands of user-generated videos that bring users back to your page. Today, one of the best strategies for beauty retailers on TikTok has been to create brand-unique filters.
Filters allow TikTok users to turn on their selfie cameras and see themselves in a new shade of lipstick, fake eyelashes, or colorful nails. They're insanely popular on the platform and creating a great filter could boost your reach significantly.


In an effort to keep users on their site for longer, Facebook premiered Facebook Shops in 2020. The idea behind it is for retailers to create "shops" on Facebook for free, which allows users purchase products within the Facebook App.
These shops are easy to create and highly customizable. Brands can choose which products to display first, which offers to highlight and which fonts and colors to use. Facebook Shops also offer the option to provide customer service through WhatsApp or Facebook Messenger.
Selling through Facebook Stores is a good idea because it removes friction in the user experience. Instead of clicking on a Facebook ad and being taken to an external website to check out products, users can stay on the platform. It's also an excellent option for smaller retailers who haven't invested in their ecommerce marketing yet.
Instagram is already one of the most popular social commerce spaces ever since it started allowing brands to sell products directly on its platform. Instagram's newest feature, Instagram Drops, is the perfect opportunity to create buzz around a new product.
A "drop" is a limited-edition product that's only available for purchase until it runs out of stock. Users find these drops by going into Instagram's Shop Tab, where they can browse through the newest releases. From there, they can either purchase the product directly or save it to a shopping list for later.
These Instagram Drops are the perfect opportunity for brands to launch truly unique products, such as a limited-edition Autumn-themed eyeshadow palette, a face cream that comes with a beauty roller, or a new deodorant that comes in biodegradable packaging.
It's not really the space to sell your classic products, but rather a good opportunity to create virality around your brand's most innovative ones.
Feelter isn't a social media platform. it's a platform that brings social media to your ecommerce website. If you're a beauty retailer, the chances are high that your customers have already mentioned your products on social media.
Feelter allows you to take advantage of all that high-value user-generated content and display it directly on your ecommerce site's home and product pages. This can have a huge impact on purchasing decisions made by customers since user-generated content is one of the most effective forms of social proof.
User-generated content has the power to show potential customers how your existing customers have used and loved your products. With Feelter, you can add Instagram-like displays to your ecommerce site, giving visitors a sense of familiarity and relatedness.
In other words, you get to use the look and content of social media platforms on your website itself. Beyond driving conversions, this practice also allows you to strengthen brand trust and engagement with potential and existing customers.
Many marketers make the mistake of ignoring Pinterest, thinking it's an aging platform that isn't as shiny and attractive as TikTok or Instagram. This overlooked platform is actually one of the best venues for social commerce, attracting millions of regular users who have a strong interest in beauty products.
Just over the past few years, Pinterest has attracted more Gen Z users to the platform than ever. Its new Shopping List feature allows users to add products to a list, which can be revisited when they're ready to buy. There's even the option to add notifications when a product's price drops.
Doing well on Pinterest isn't necessarily expensive or time-consuming. Since it's a very visual platform, it's all about creating striking pins that promote a lifestyle or aesthetic more than a product. Brands that do that well could find themselves being "repinned" on thousands of Pinterest boards — and landing on a coveted Shopping List.
Facebook Live Shopping Events
Facebook Live Shopping events allow brands to create video streams to introduce new products, which users can then buy directly through the stream. It's a little more time-demanding compared to creating Pinterest pins or Instagram ads.
That being said, it's one of the best ways to establish a solid bond with your audience. Consumers love to see beauty products in action. That's why many would rather go to a physical store to try out products rather than buy online. Facebook Live Shopping events allow you to present products and give users a feel for their color, texture, and quality.
It's also an excellent opportunity to engage with your audience directly: let them ask questions in the live stream chat and answer them. To get the most out of Facebook Live Shopping events, you'll need to open a Facebook Shop for your products first.
Compared to many other social media platforms, Reddit makes user segmentation incredibly easy. You just know that people who follow the forum r/MakeupAddiction are passionate about makeup products, for example.
That being said, a lot of marketers have been put off by the platform because conducting successful organic marketing campaigns there can often be an uphill battle. Reddit users can smell sponsored posts from a mile away and have already bullied several brands off the platform.
The alternative is paid marketing through ads, which is a worthwhile option. When you want to advertise on the platform, Reddit lets you specify your target audience and your budget. It will then suggest a price range for you to bid on ads, which shows exactly how much your brand will spend on any given campaign.
Twitter is one of the newest platforms to join the growing social commerce trend. It recently introduced its new Shop Module, which allows professional accounts to sell products through their Twitter page. Brands that want to use this module can now display products at the top of their profile pages and sell them via the app.
Twitter is already one of the platforms on which brands show the most personality. From sassy tweets to hilarious customer service replies, users get exposed to some of the most light-hearted sides of beauty brands. If you manage to build a solid audience by showing off your brand's sense of humor, selling through Twitter's Shop Module could be a great option for you.
The best way to promote beauty products through social commerce is to find ways to demonstrate their usefulness. It's not enough to create appealing ads; you need to speak to the audience directly. Using Snapchat's AR features is one of the best ways to do that.
Snapchat is still one of the most popular social media apps among younger users — and its filters go viral extremely quickly. Snapchat's product marketing lead Carolina Arguelles claimed that the future of social media marketing was what she called "camera marketing."
By creating AR filters, brands have the opportunity to engage with users in an active way: when they turn on their camera to take a selfie or video. Sephora has already started using Snapchat's AR features to demonstrate the use of makeup applications.
But the options don't stop there. Marketing on Snapchat can also involve creating multi-user games or shoppable ads. The more inventive, the better — so get brainstorming!
TikTok recently partnered with Shopify to build in-app shopping experiences. Their shoppable ads show up directly in the user's feed. With one click, customers are able to buy the advertised product.
Since TikTok mainly appeals to a young demographic, it's an ideal platform to run beauty ads. These users have grown up with frictionless social media shopping and naturally gravitate toward brands that put this in use.
To create shoppable ads, brands need to create a TikTok business account that connects with a Shopify store. Then, they need to target a specific demographic. TikTok makes it relatively easy to sort out users by age, gender, and interests, which makes for very well-targeted ads.
During the campaign, marketers also benefit from easy ways to track traffic and conversions. A quick word of advice: TikTok is a trend-heavy platform, so creating ads that follow a trending format is the easiest way to get noticed — and go viral.
Final Words
Social commerce has been growing over the past decade, and the good news is that it's nowhere near its peak. Beauty brands that join the game early stand to gain a lot: new, young customers, increased reach, and better brand recognition.
Although it's not easy to make a strong impression on social media, the brands that have done it blew up in ways most marketers can only dream of. Why not follow in their footsteps?
Feelter's customizable brand UGC displays can help your business grow organically by increasing organic conversions, engagement, and reach.