Every marketer understands the value and importance of a superb customer experience. Understanding how customers interact with your ecommerce business is essential to boosting sales and providing a frictionless brand experience from cart to check out.
Creating a customer journey map helps you and your team visualize pathways customers are taking when exploring your ecommerce website. Besides providing invaluable business insights, mapping customer journeys can also highlight critical opportunities for optimizing your online store's brand experience.
The Benefits of Customer Journey Mapping
Believe it or not, we don't always get second chances. A whopping 58% percent of consumers will choose to shop elsewhere if they have a poor customer experience — and many of them don't return. Customer journey mapping is a powerful tool for pinpointing where potential customers fail to convert.
That's why investing the necessary resources into streamlining customer relations is crucial to improving customer retention rates and customer lifetime value (LTV) — key KPIs of any successful marketing strategy. By simply outlining customer entry, exit, and pain points you can already begin to build powerful customer personas — a critical element of any customer journey map.
Having a birds-eye view of your average customer's experience is invaluable and will only help your brand build stronger, closer relationships with customers down the line. But if you don't know where to start, and all the jargon is too confusing — don't fret.
Luckily there are many powerful software and tools that make efficient customer journey mapping for your ecommerce business a breeze.
What to Consider When Choosing Customer Journey Mapping Software
When choosing the best customer journey mapping tools for your business there are many essential features that you'll want to make sure work for you and your team. Customer persona creation, template-based map designs, and real-time collaboration are some key features that will make the experience more fruitful.
Ultimately, you will want to choose customer journey mapping software based on the following key factors:
Ease of Use

— Can employees use it easily or does it require training?

Use Case

— Is this the right tool for my needs based on my use case?

Features

— Does the software offer tools that support my team to succeed?

Integration Options

— Does it integrate with your existing third-party tools?

Pricing

— Is it something you and your team can afford right now?
All of these are great questions to ask when considering which customer journey mapping tool may be right for your business. Depending on the industry or department needs may differ, but as a rule of thumb, it's good to start small and build your arsenal slowly.
For instance, if a heat mapping tool helps your team get things off the ground just enough to convince the upper-ups to give you more budget, then make that your game plan and scale as you track results. If you're completely unsure where to start though, keep reading.
In order to help you pick the best customer journey mapping tools for your business, we put together a list of the top ten customer journey mapping tools. Use this list to make your decision easier as you discuss your options with your team leads.
1. UXPressia
In addition to providing 30+ sector-specific templates, UXPressia offers elegant customer persona cards and impact maps. UXPressia's cloud-based interface offers streamlined simultaneous collaboration, enabling your team to quickly produce customer journey maps that have the added benefit of incorporating real-time data analytics.
Whether you're new to customer experience analysis or just looking to upgrade your map visualizations, their practical courses will get you creating impactful journey maps in no time.
Pros: Real-time collaboration, integration with popular web analytic tools, multiple customer personas, extensive educational materials.
Cons: Lacking in wireframing and has limited customer persona customization.
Price: Free version available, with paid plans start at $13.30/month.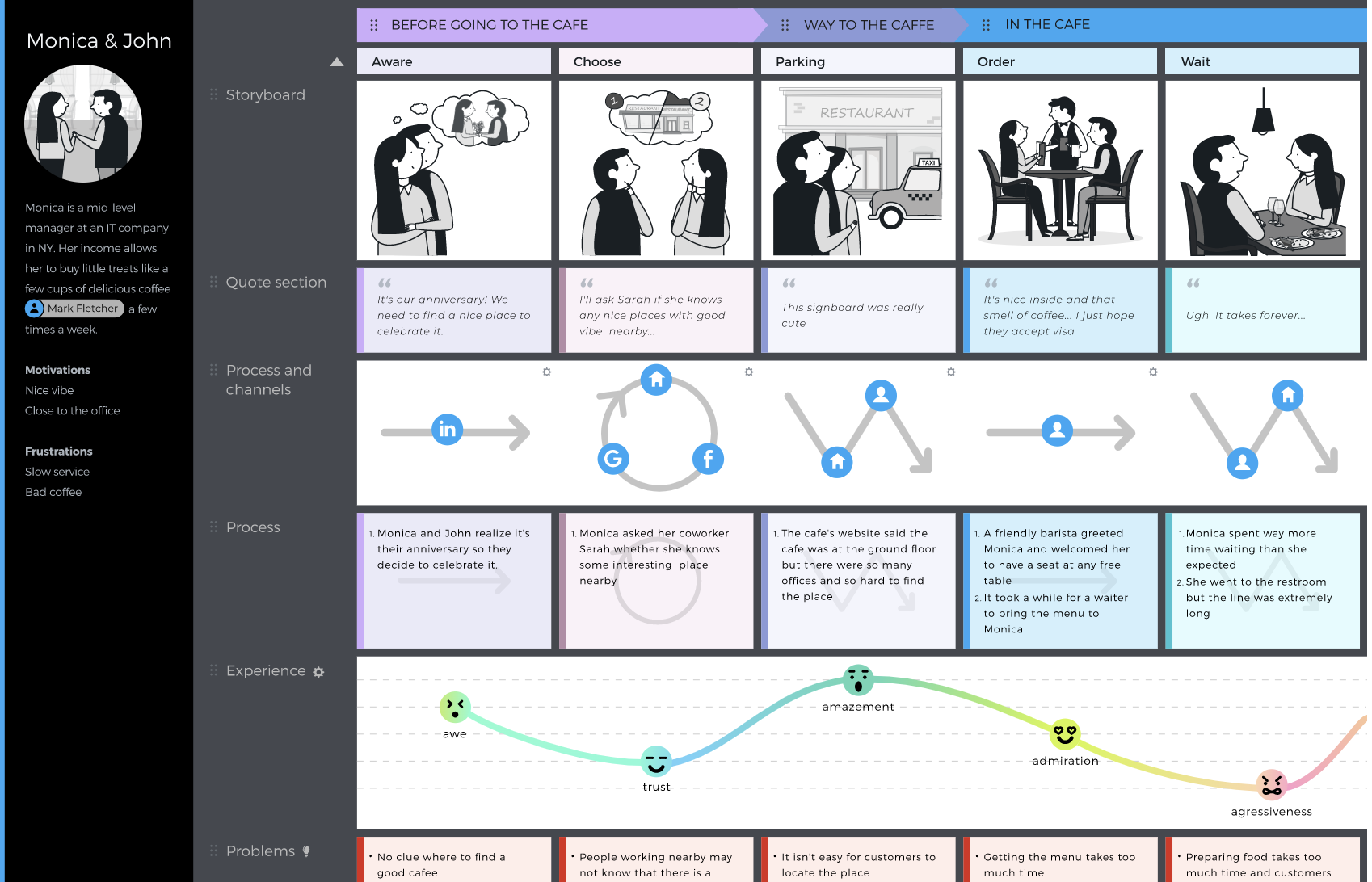 2. Custellence
You can be sure to get a comprehensive view of your users' experience with Custellence. Its simple interface provides you with the tools to visualize customer emotional experience while also incorporating valuable customer data insights.
Created specifically for customer journey mapping, Custellence removes the hassle of trying to make general flowchart software work for your needs. Their templates are intuitively designed, which creates more versatility in depicting complex journey map ecosystems.
It includes an extensive color palette with clean but engaging icons and visuals. Custellence makes it easy to share ideas with your team, through the use of their permissions feature for participating collaborators.
Pros: Flexible map structure, great collaboration features, and easy file imports.
Con: No integration of real-time metrics.
Price: Free version available, with paid plans start at $30/user per month.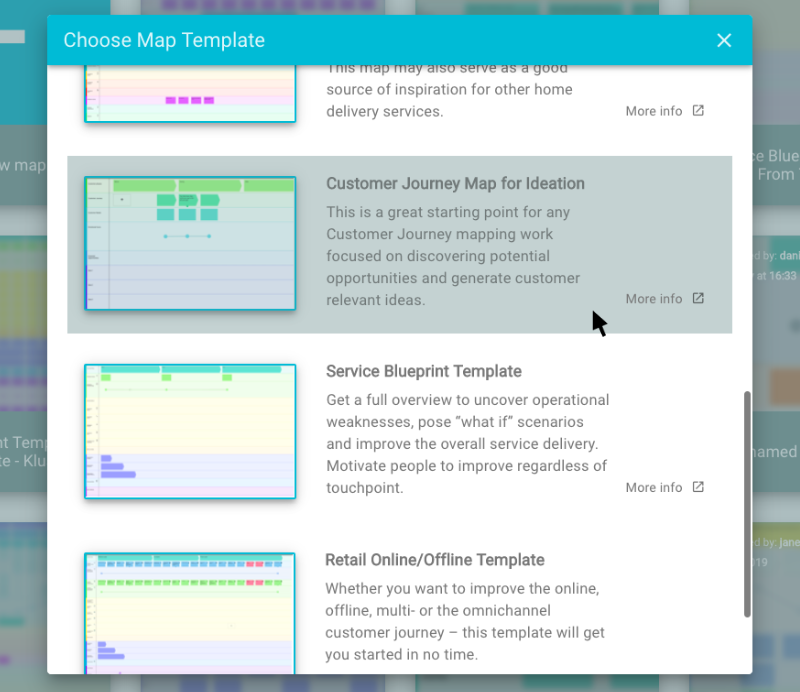 3. Smaply
Smaply's intuitive interface makes it easy to create maps that give you a fuller picture of your Ecommerce businesses' impact on both customers and stakeholders. Its premade gallery illustrations assist in connecting with the user's experience and visualizing customer interest and intensity in a one-dimensional perspective.
Enjoy the flexibility of using Smaply with features such as "live-sharing" and compatibility with other customer journey mapping tools such as Miro and LucidChart.
Pros: Drag-and-drop interface that easily integrates with most CRM systems.
Cons: Steep learning curve for advanced features.
Price: Free version available, with paid plans start at €19/user per month.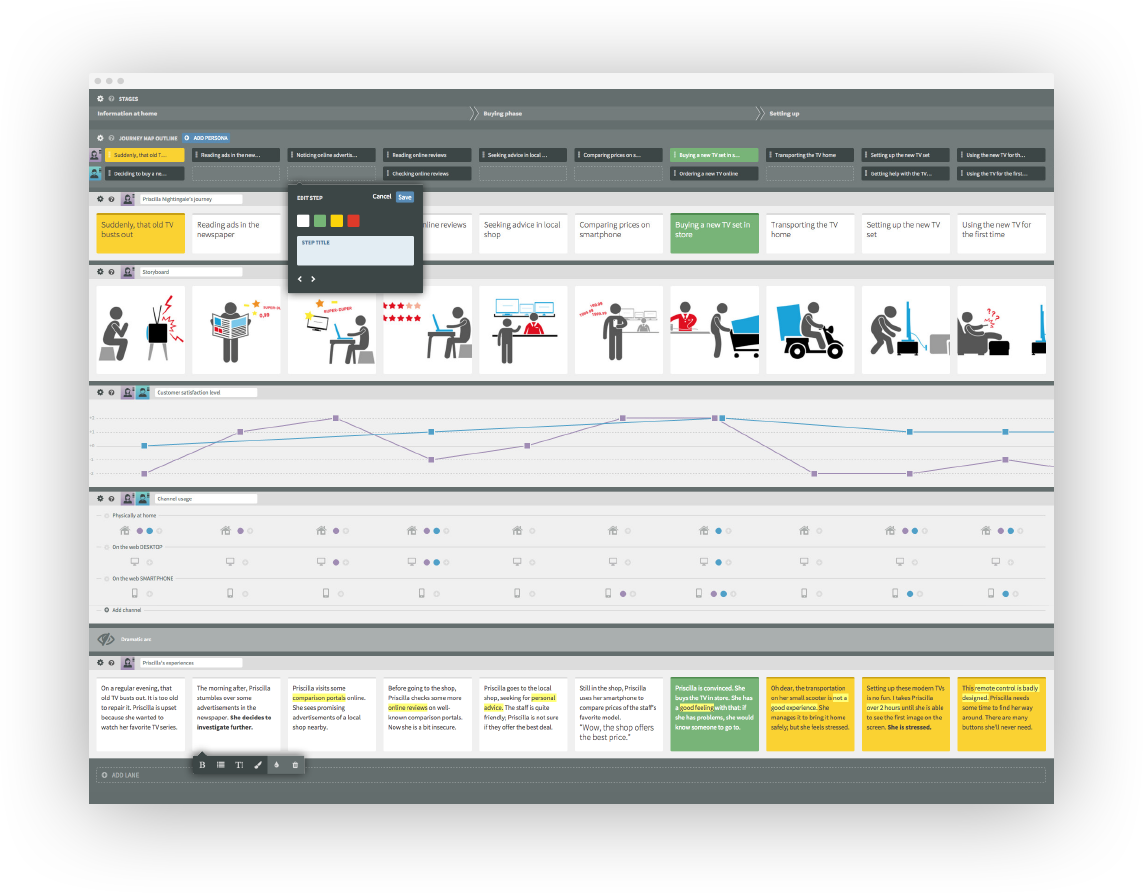 4. Miro
Invest in software that allows you to go beyond customer journey mapping and enhance your teams' ability to collaborate and strategize. Miro combines a simple and sleek approach to diagramming while simultaneously providing the transparency to see both the big picture and the small details.
Its compatibility with other popular tools like Dropbox, Google Suite, JIRA, Slack, and Sketch will ensure you don't lose time incorporating Miro into your workflow.
Pros: Multifunctional software that's optimized for team collaboration.
Cons: Limited diagram templates available.
Price: Free version available, with paid plans start at €6.95/user per month.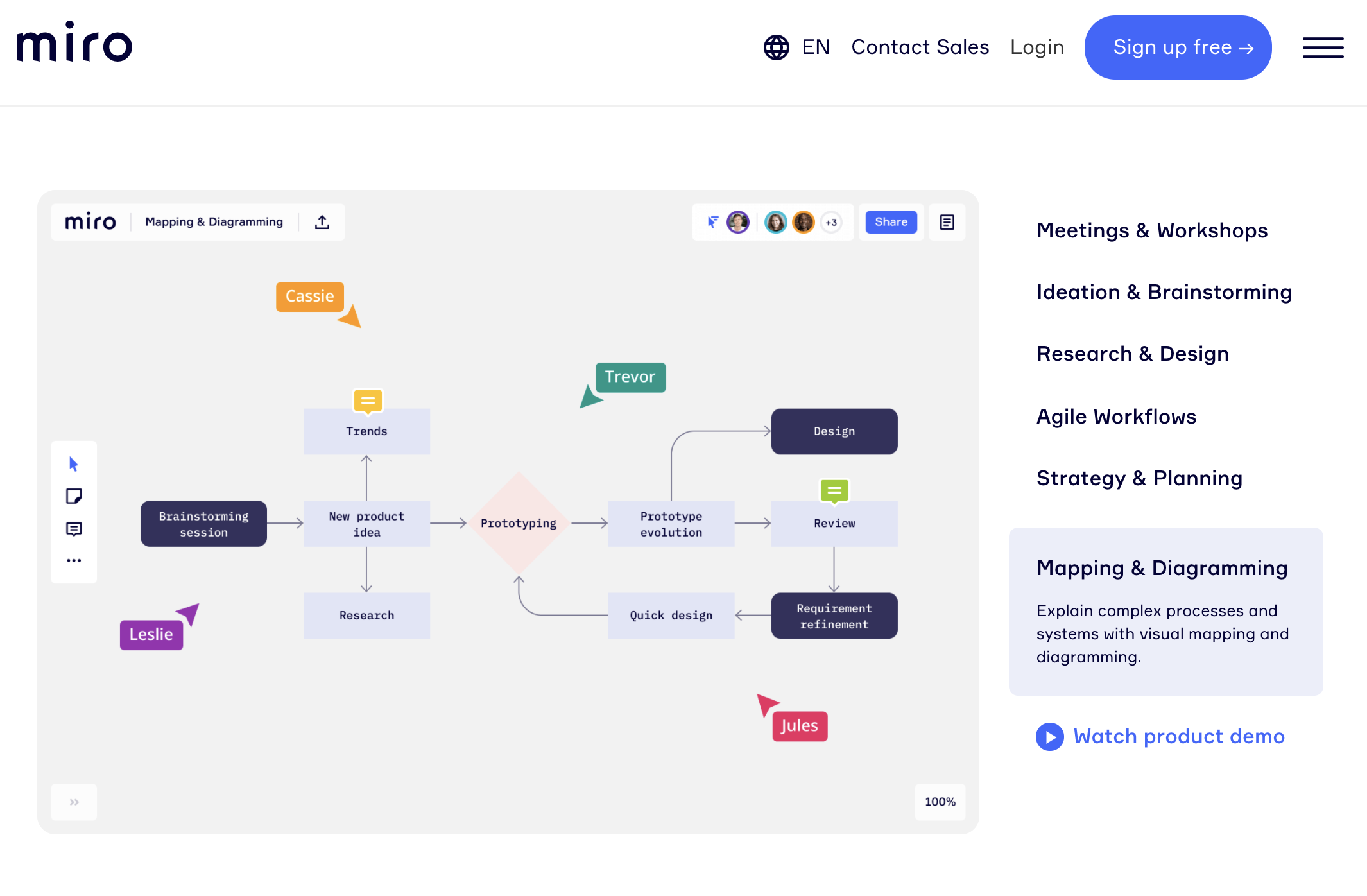 5. Lucid Chart
Lucid Chart enables you to visualize your customer experience with customizable templates and extensive formatting options. Its stripped-down diagramming software is versatile and easy to use, helping you gain more insight into your customers' personas and pain points, ultimately increasing your business's revenue.
Their "user story software" also includes tools that allow you to reverse engineer your ideal customers' journey, helping you improve your online store's customer experience.
Pros: Offline use options, great for collaborations, and super beginner-friendly.
Con: Limited integration with real-time customer data.
Price: Free version available, paid plans start at €6.95/user per month.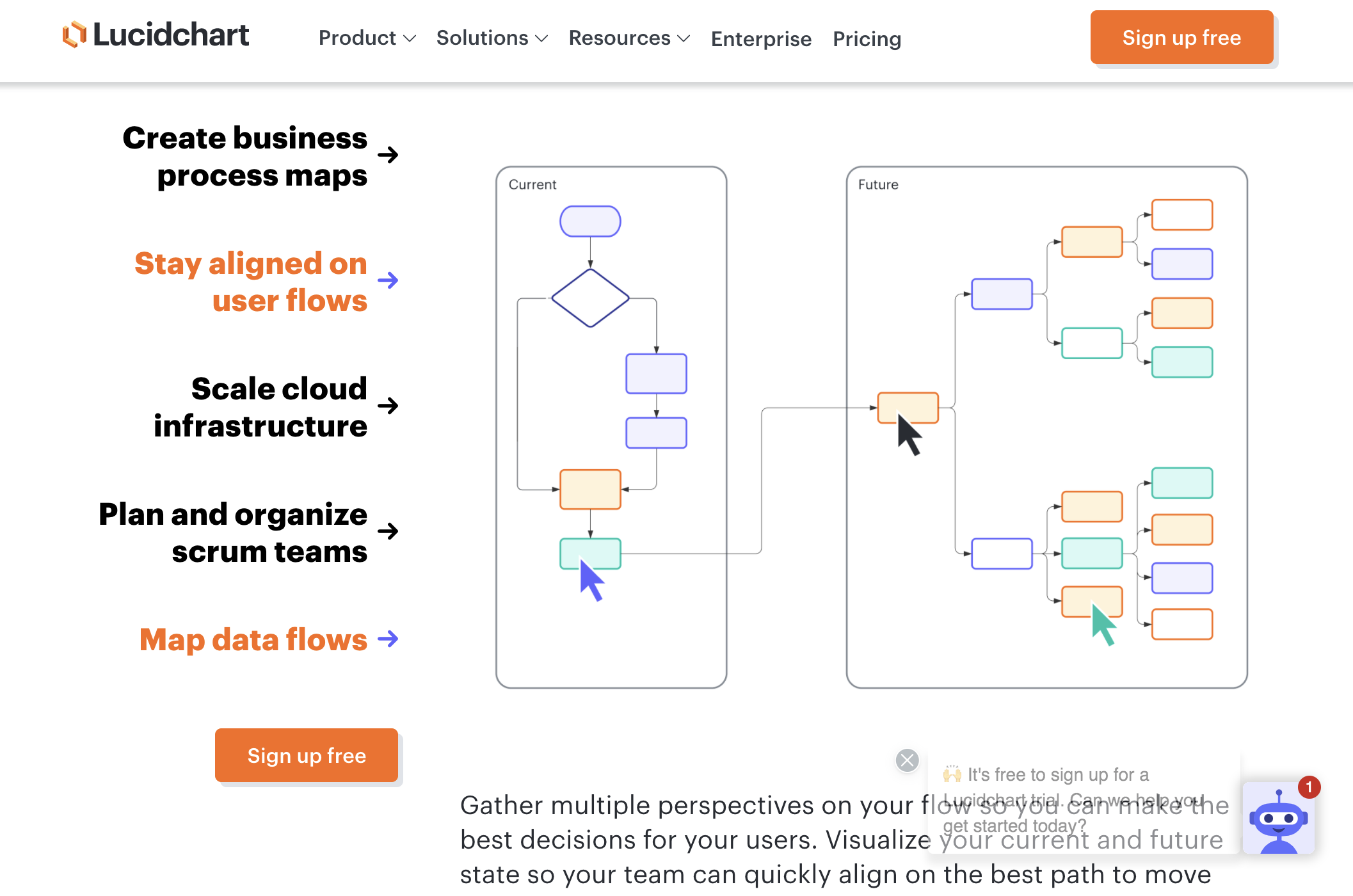 6. OmniGraffle
OmniGraffle makes rapid prototyping and wireframe creation effortless. Design tools like intelligent grouping, snapping, and aligning equip you with the skills to create accurate high-quality customer journey maps without sacrificing on time.
Although it's a powerful flowchart and diagramming software, OmniGraffle isn't specifically tailored to customer experience and customer persona analysis, so it's best used for experienced teams who simply need a powerful and professional visualization software.
Pros: Infinite canvases for complex journey maps and highly-customizable design elements.
Cons: Limited sharing options and only optimized for Mac Operating System.
Price: No free version available, paid plans start at $10.49/user per month.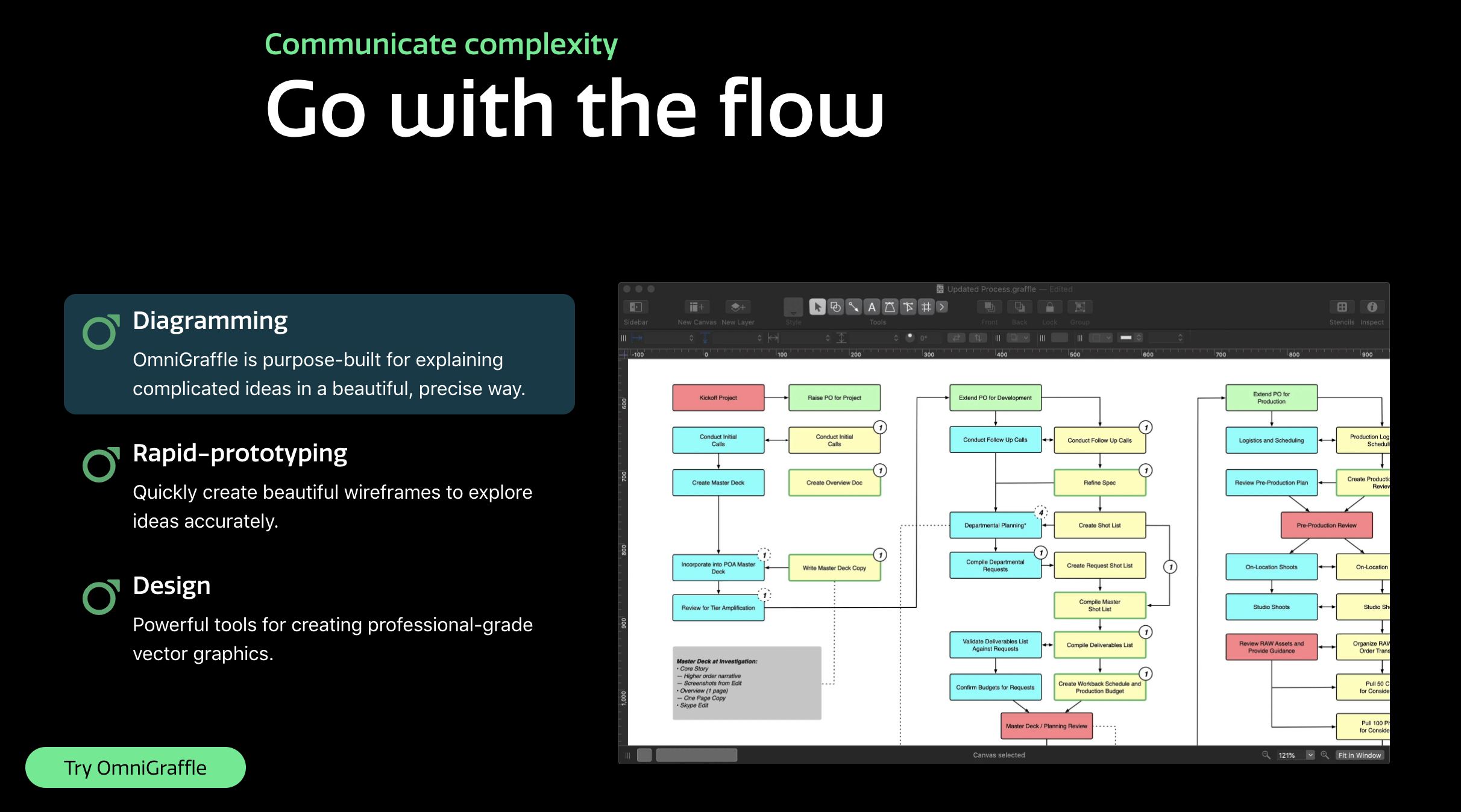 7. Microsoft Visio
As part of the Microsoft Suite, Visio doesn't disappoint in delivering the tools needed to build powerful diagrams. It includes a host of interactive drag-and-drop elements that allow you to effortlessly create maps in a multitude of formats.
In addition to the benefit of compatibility with the entire suite of Microsoft products, Visio can safely and securely connect real-time customer experience data to your existing diagrams and flowcharts.
Pros: Interactive elements, ready-to-use templates, and real-time bi-directional data.
Cons: Awkward element movements and no MacOS support.
Price: No free version available, paid plans start at $5/user per month.
8. Gliffy
Gliffy excels at providing a wide variety of graphic and flowchart templates which you can use to easily start building your customer journey maps. Its web-based interface is great for new users and produces powerful and visually appealing roadmaps which are designed to impress.
Their software also allows you to customize Gliffy's API according to your specific use case's needs and has the ability to seamlessly integrate with popular project management tools like Atlassian, Jira, and Confluence.
Pros: Offers wireframing, informative prompts and menus, and extensive icon variety.
Cons: Limited connector placements and collaboration features, and unprotected free version.
Price: No free version available, paid plans start at $8/user per month.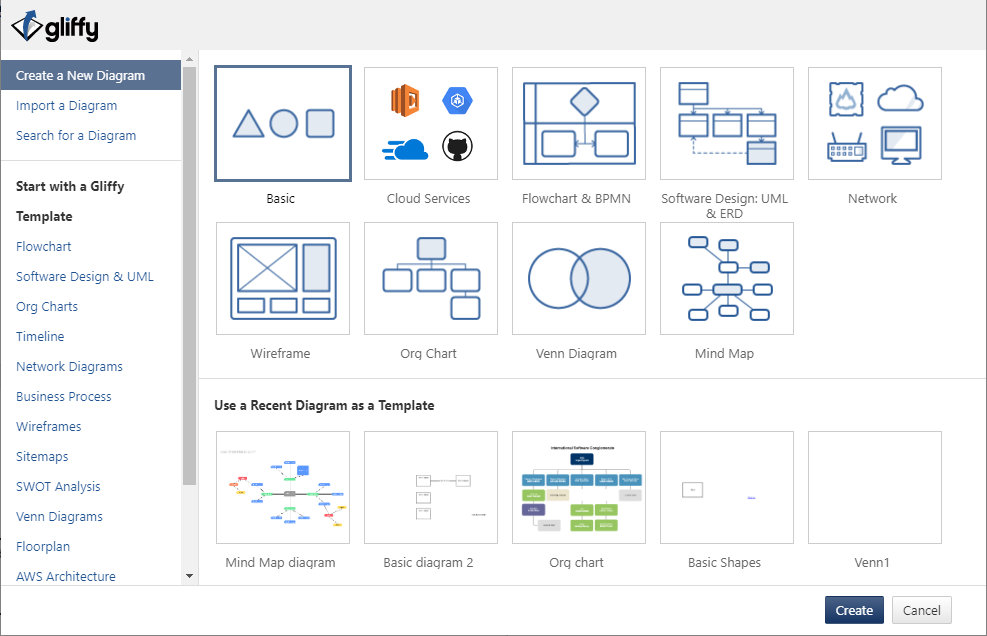 9. IBM Journey Designer
With IBM's Journey Designer you can expect a functional and straightforward user interface and design elements. Its implementation of machine learning allows you to detect pain points much faster, all while keeping your data secure with its top-of-the-line encryption.
This software is ideal for collaborations across multiple teams and supporting agencies due to its online and offline editing capabilities, promising maximum efficiency alongside robust collaborative editing.
Pros: Integrates and can be used alongside AI tools and platforms.
Cons: Very minimal elements offering limited design options.
Price: Need to enquire as customized billing plans are offered by Acoustic Inc.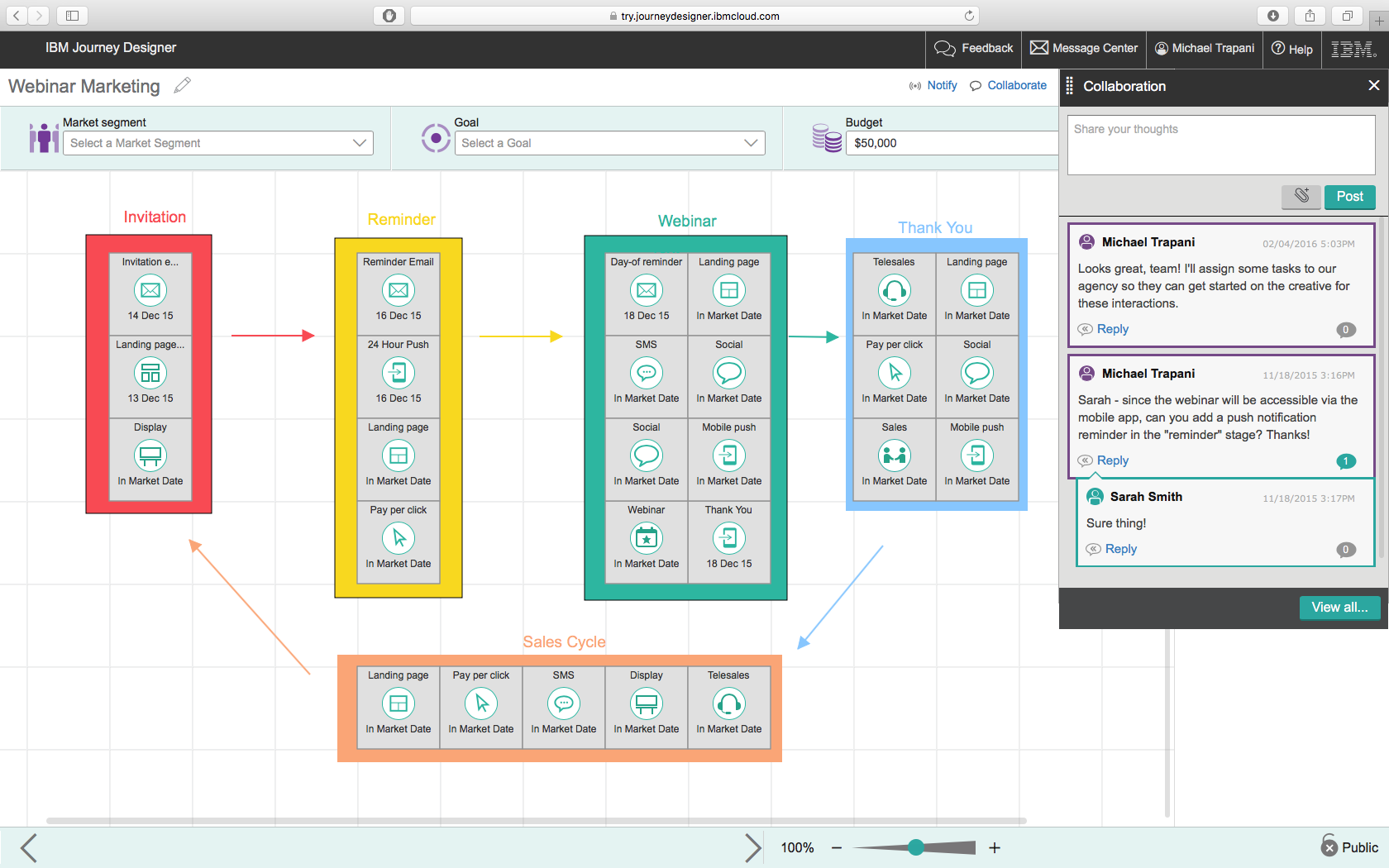 10. Visual Paradigm
Streamline your user experience initiatives with Visual Paradigm's customer journey mapping and development tool. With the ability to link specific touchpoints, customer emotions, and customer pain points, you can quickly brainstorm and collaborate on maps with your team and stakeholders.
Visual Paradigm also offers a multitude of tools for your technical staff to manage codebase and database architecture in addition to user experience mockups for developers.
Pros: Multiple use cases beyond journey mapping and high value for software engineers.
Cons: Limited collaborative features, could use an updated aesthetic.
Price: No free version available, paid plans start at $6/user per month.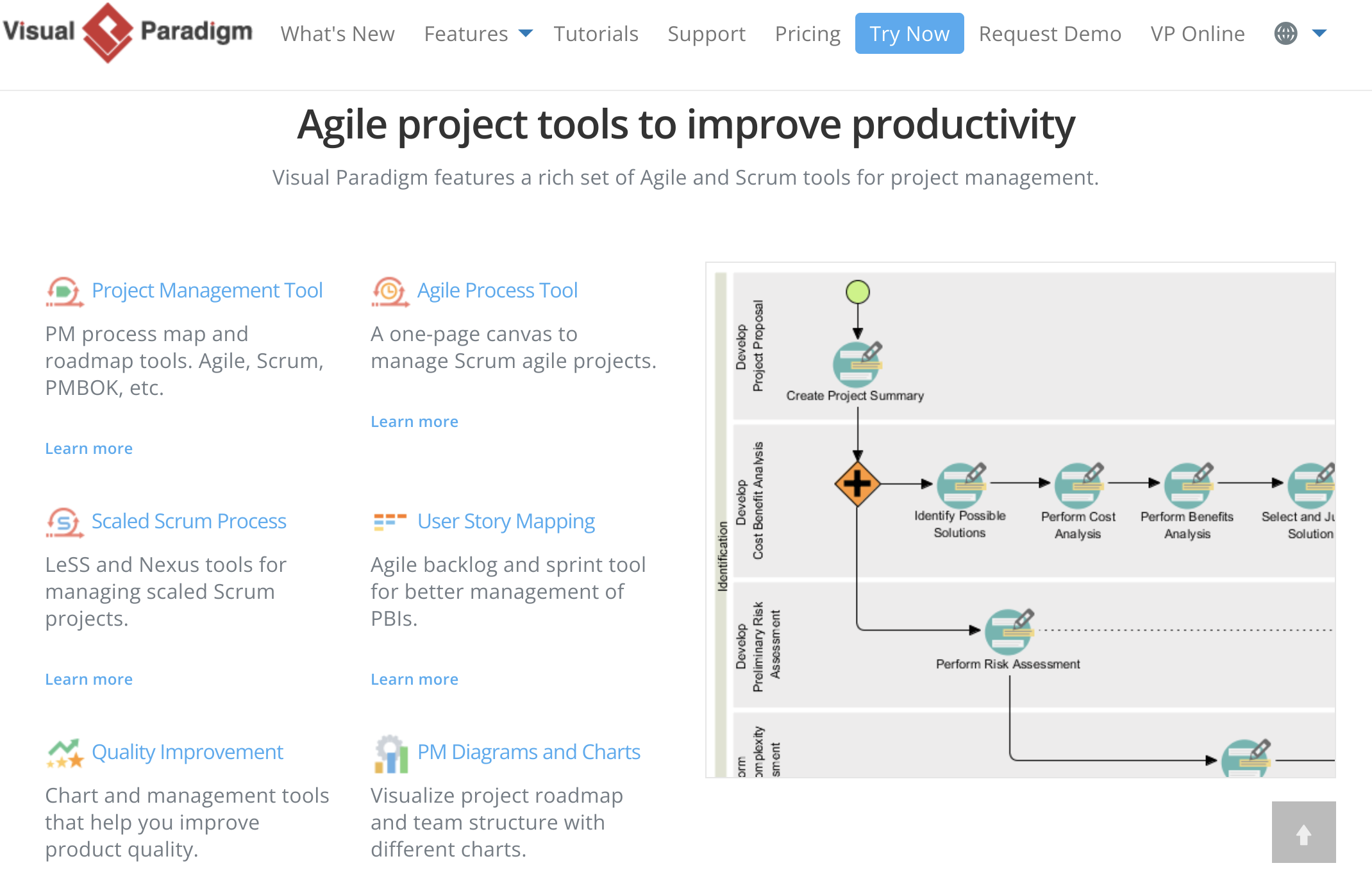 Which Customer Journey Mapping Tool is Right For You?
It's well known that the key to having a successful ecommerce business is happy customers who trust in your brand. Building that trust requires a comprehensive understanding of the complexities of your customers' needs, frustrations, and desires.
Having the right customer journey mapping tool will continuously give you opportunities to enhance your customers' experience, ensuring that your products and your customers make it to check out before abandoning their cart. Focus on outcomes and let the objectives ahead guide you in your decision-making process for the right customer journey mapping tools.