A writer brings home to her Israeli startup the lessons she learned about letting go of "I" and creating a culture where people work together in perfect synergy.
Unlike most startup founders and players in Silicon Valley, I didn't learn about managing a business from other entrepreneurs, my gut or a self-help book. Born and raised in Israel, I completed my nation's obligatory military service as an officer in the navy, then took a drastic departure from the paths my friends and family had tread: I left the country to travel the Far East and learn about different cultures and life there.
And what a change that experience wrought: What had begun naturally as curiosity and openness evolved into a desire to study and understand Buddhism in the streets and in the villages, by interacting with people, and from time to time visiting a monastery in China.
In order to survive during this period, I worked as a tour guide. Along with my trips, for seven years I also conducted workshops in the spirit of Buddhist philosophy.
In this way, I soaked up a philosophy and culture I fell in love with, and when I came back to my home country, I built a company founded on these same principles. From day one, these ideas have defined how we do business and interact with both clients and employees.
Specifically, my goal is to maintain, enable and preserve clarity, and to conduct business measured, on one hand, by the usual bottom line, and on the other, a business that rebels against projected outcomes. Here are four things I learned at a monastery in the mountains of China that are cornerstones of my business: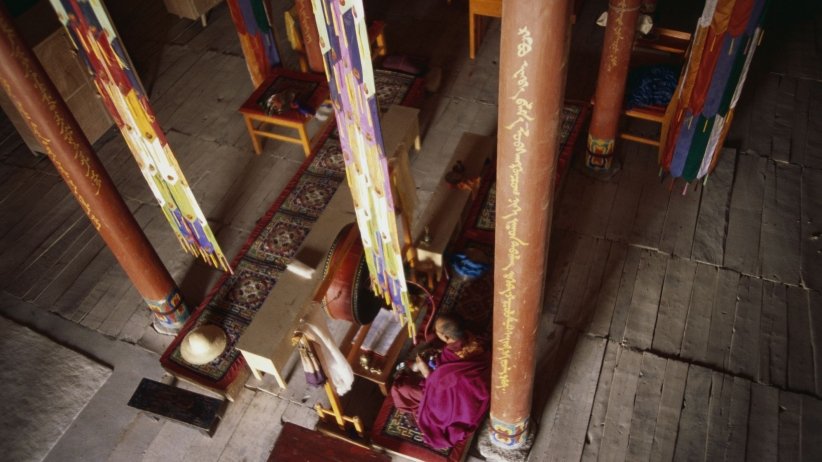 Never stop growing.
At Feelter, I encourage my employees not to focus solely on building their careers, but on building their lives, as well. I demand this for myself and ask it of my colleagues. When I wake up each day, I aim to build and be built anew, based on my desire for growth, development and renewal.
As Buddhist monk Jenna Sundell teaches, work, to Buddhists, is meant to refine consciousness, soften the ego and lessen suffering; it isn't simply about money or status.
Our employees all have big side projects with goals: One is an actor who was a finalist on Israel's Big Brother. One is an angel investor. Aanother commits his time to helping children who suffer from diabetes and is writing a book. Yet another is a professional climber. My desire and mission is to advance ethics and courage, and establish a business with wisdom at its center. I want to build a company that evolves and inspires its employees and associates.
Find your anchor.
In the business world, the endless race of meeting targets, putting out fires, managing employees and dealing with the competitive market can leave founders gasping for air on a daily basis at best, and facing long-term fatigue and burnout at best.
In Asia, I learned that it's critical to find your inner anchor amid the daily chaos; I learned that meditation can help polish, sharpen and correct me in the most optimal manner. In the long run, I would be unable to function without being connected to an internal anchor -- a place that is just me, where I can return and recharge, rediscover and reload, with vigor and passion.
I practice meditation every day, because it's incredibly important to recenter and stay focused on life's biggest priorities in order to maintain serenity and calm.
The community depends on everyone.
I believe that economic business growth is closely related to personal growth, self-reflection and a connection to the broader community. I strive to create a world where business, personal growth and the community work together in perfect synergy, recognizing that the Earth's energy requires a give-and-take.
Other companies are following the same beliefs: Nextiva, an Arizona-based company that powers a VoIP platform, enables its employees to give back by focusing on a different charity each month. The company's Nextiva Cares program, launched in 2015, rallies employees for a variety of different initiatives of the team's choosing. These have included raising money for the Mayo Clinic Hospital, initiating food and toy drives and even using social media to generate impressions that are then converted directly into donations.
When I started Feelter, we donated company revenue to helping children with disabilities, because we believe that just as our surrounding community has supported us and helped us fulfill our dreams, we're the ones responsible for helping others reach their goals, too.
Creativity is key.
I have no doubt that the future of startup management will diverge from conventional company management: I believe that executives' emphasis will become focused on the development of innovation and creativity.
In that environment, a successful professional will need to focus not only on building a professional knowledge base but on building a solid skill set and honing a creativity that fosters new ideas and innovation in a rapidly changing and global business and tech world.
Thinking globally and having a diverse set of employees is critical to surviving in today's competitive business space, especially for businesses located abroad.
Gaming studio Etermax, for example, based in Buenos Aires, produced the mobile game smash hit Trivia Crack and has generated 200 million downloads for the game. And it competes with the top tech firms in Silicon Valley on a daily basis. In order to remain competitive, the company makes its games multilingual and multicultural. To do this, its staff has had to acquire a global skill set that isn't taught in a classroom. Having these extra skills and creativity is necessary to keeping a business successful and global in today's changing world.
Letting go of "I."
The members of my company are what I think of as "soul players": Both independent members and management operate in an almost transverse manner.
Our culture is a harmonious one based on teamwork, professionalism and deliberation, alongside individuals' involvement with creating the big picture plan and technology. When I started the company, I gave everyone a key to my apartment, and we worked in my kitchen. I trusted my team members, and learned to let my trust and team spirit overrule my cautiousness.
I've seen other companies take similar steps: JumpCrew, a social media marketing agency, hires salespeople with no experience: Company leaders believe this strategy has helped them build a culture where team members can train in groups of 10 and learn tactics from one other.
They believe that this environment helps team members understand how to help others and creates a shared desire for achievement.
At our company, we believe that everyone possesses a conscience that knows the truth, is able to engender clarity and can move the "noise" and the patterns that block access to our individual focus and inner calm. It's up to us to find and channel that ability correctly.

By Smadar Landau
Published: entrepreneur APRIL 20, 2017