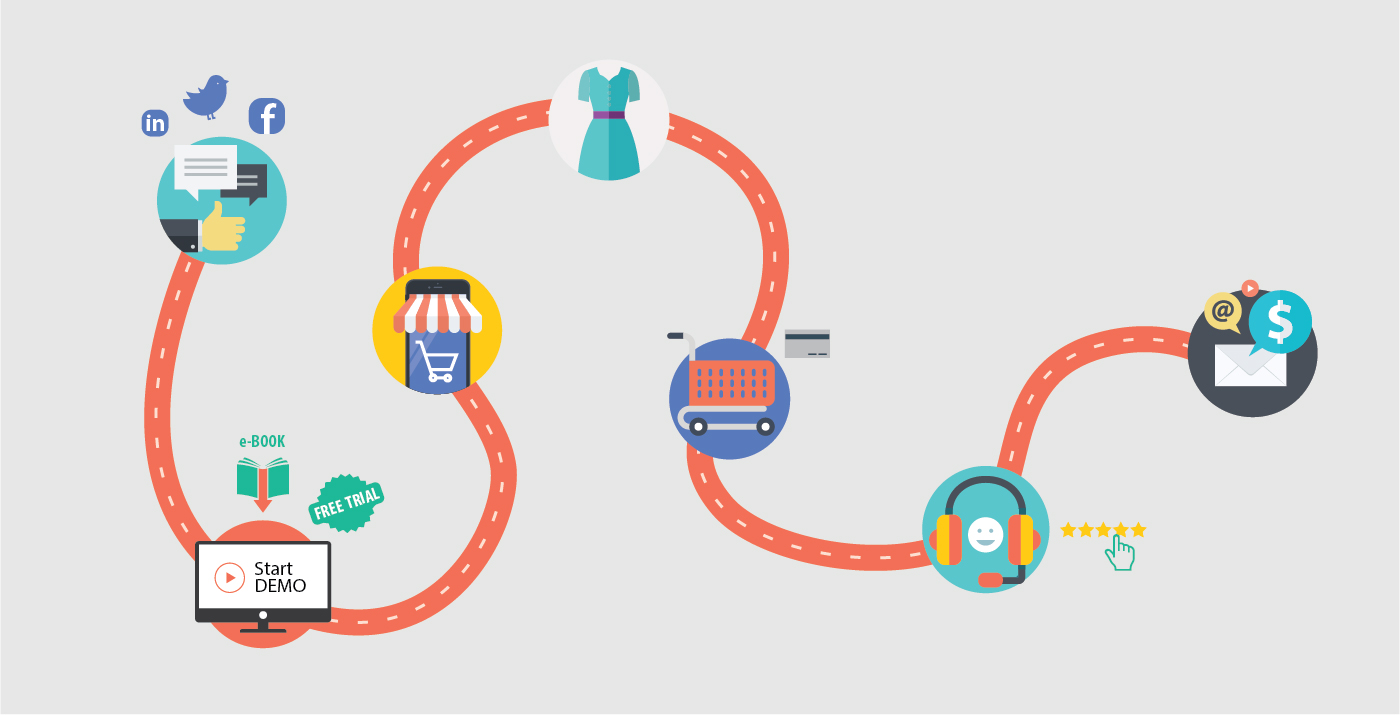 In the all very modern, multi-multi-billion dollar, high stakes world of online versus offline retail competition, eCommerce and bricks-and-mortar stores share at least one common denominator: the need to attract potential customers and turn those would-be customers into actual buyers. However, while the ultimate goal may be the same, the method behind the madness is distinctly different, and eCommerce, through advanced technological and tracking information, certainly seems to have the upper hand.
In optimizing the eCommerce customer journey, the future of retail lies in the simplification and personalization of the online buying process. But the retailer and the consumer are far from being mutually exclusive. Indeed, in seeking to optimize the customer journey the seller needs to discern how they can achieve their retail goals while at the same time helping consumers reach theirs.
That said, many retailers are already behind the curve by not focusing on customer experience management, and in doing so, not understanding their customers' journeys. Instead, they are still focusing on acquisition strategies.
However, each customer has a unique, non-linear journey with their own individual touchpoints and retail site navigation pathway. That said, each eCommerce customer shares a series of steps to ultimately complete a purchase. After initially researching the product utilizing search engines or social media, a customer will ultimately settle on a favorite product and decide to buy. Once the product has been purchased, the customer will hopefully share their feedback.
The key to understanding the customer journey is understanding the customer persona. All customer tracking and journey optimization must begin with the collection of consumer data in order to identify how they interact with a retailers' web site.
Indeed, myriad questions about the customer can be answered through the unobtrusive collection of customer data, which can then be combined to form a relevant appreciation of the consumer's various demographics, such as search device, targeted product price range, visitation frequency and research criteria.
This data will ultimately lead to an understanding of the customer's shopping habits and buying decisions. Simplifying an individual customer's journey can only be done once an understanding of the customer and their online buying habits has been completed.
Just as motivation dictates a character's arc and resulting actions in a feature film, so an eCommerce customer's motivation reveals their retail journey and buying criteria, their needs and concerns. Only once those elements have been identified will it be possible to personalize the retail touchpoints that will engage them and entice them to purchase.
Understanding the customer allows for the removal of barriers that prevent them from buying. For example, the creation of a consistent customer experience across all devices – from mobile to desktop – is essential. Expedited web site load times are an equally essential element in preventing potential customers from leaving without purchasing. And quickly securing the customer's attention with dynamic or vibrant content will entice them to stay.
The future of eCommerce is moving on from customer lifecycle marketing that focusses not simply on brand enhancement and loyalty, but shared customer experiences. Future success of eCommerce retail resides squarely in the optimization of the customer journey. And that optimization in turn will revolve around the simplification and personalization of the process.